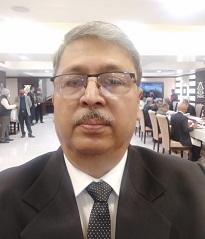 Dr. Mahendra K Modi
Coordinator, Academics
Dr. M K Modi is the Professor and Head of the Department of Agricultural Biotechnology, AAU. He is also In-charge of the ARIS Cell, AAU. Dr. Modi completed his PhD from the Center for Plant Molecular Biology, Tamil Nadu Agricultural University, Coimbatore in 1995 under the guidance of Dr. S. Sadasivam, the then Director of the Center of Plant Molecular Biology. In 1999, Dr Modi went to the Institute of Biochemistry, Washington State University, Pullman, USA as a McKnight Foundation Collaborative Crop Research Project post-doctoral fellow and worked under the guidance of Prof. Thomas Okita on the ADP-Glucose Pyrophosphorylase gene. In 2004, Dr Modi visited Japan under the sponsorship of the Asian Productivity Organization and took part in an international workshop on Plant Biosafety issues as well as the World rice research Conference in Tsukuba. He also established a collaborative programme with TNAU Coimbatore and established the rice transformation group at AAU, Jorhat through this collaboration. Dr Modi also visited the University of Aberdeen as a DBT Overseas associate.
Dr Modi also holds the following positions:

Coordinator of DBT supported programme on "PG Education in Agricultural Biotechnology"

He was the Coordinator of DBT supported Distributed Information centre

Coordinator of State supported project on "Institute of Biotechnology" under CM's priority scheme

Coordinator of Agri Bioinformatics Promotion Programme, supported by DeitY, MoICT, GOI

PI of Comparative Analysis of ADP-Glucose Pyrophosphorylase gene to understand the mechanism of enzyme regulation and design novel enzyme with enhanced feature funded under DeitY programme

Programme leader of Programme I: "Genetic improvement of rice for abiotic and biotic stress tolerance using molecular breeding, especially drought, submergence and bacterial blight disease"
Dr. Modi has guided about 15 M.Sc. students as Major adviser and about 20 M.Sc students as member of advisory committee. One student has already completed PhD under the joint guidance of Dr. Modi from TNAU, Coimbatore and several PhD students are pursuing their research work under his guidance.
In addition to his routine activities, Dr. Modi is also actively involved in the ARIS programme, under which he was instrumental in establishment of the Campus wide Fibre Optic LAN at AAU. The Assam University, Silchar has nominated Dr. Modi as one of the external member to the Board of Studies for their School of Life Sciences.